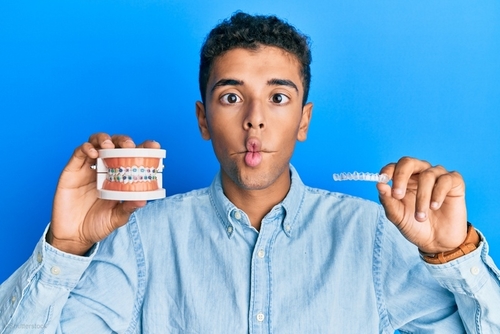 If you or a family member need braces, it probably has crossed your mind whether to use clear aligners or traditional metal braces. Both are good options for straightening teeth, but they work differently and have their own pros and cons. Dr. Abraham has outlined some differences below so you can determine which orthodontic treatment may be better for you.
Clear Aligner Braces Overview:
What are clear aligners?  Clear removable plastic trays custom fit to your teeth. Invisalign® consists of a series of trays custom-designed to each patient's case to apply gentle pressure to shift your teeth into place over an extended period of time. You will normally switch to a new tray in 1-2 weeks as recommended by your dentist.
Advantages of Clear Aligners:
A subtle look, less noticeable in your mouth.
Removable for eating and cleaning.
No metal brackets or wires.
Can possibly require fewer visits to the office vs. traditional metal braces.
Disadvantages of Clear Aligners:
You must be conscientious and eager to wear your aligners 22+ hours per day.
For certain patients, aligners may not be the right solution for major orthodontic changes.
Your speech may be altered initially until you have adjusted to speaking with aligners.
Traditional Braces Overview:
Traditional braces (or brackets) are either metal or ceramic brackets that are attached to the front of the teeth, with a special bonding material that holds the bracket in place. An archwire is a thin metal wire that runs through the brackets and applies a slight amount of pressure to shift teeth. Elastic ties or bands are also used to help guide the tooth movement.
Advantages of Traditional Braces:
Can be used to treat more complex cases to correct severe crowding, and or bite corrections.
Less reliant on patient compliance.
Faster treatment times reported in some cases.
Disadvantages of Traditional Braces:
Brackets and wires are visible on teeth.
Food can get stuck in brackets, requiring frequent brushing and flossing.
Wires and brackets may irritate lips and cheeks.
More frequent in-office dental visits are needed for adjustments.
Some dietary restrictions to avoid damage (e.g. sticky, hard, or crunchy foods).
Clear Aligners or Brackets: Which Are Better For You?
Each patient's case is unique to them so there is not a  "better" option. The answer is held within your specific orthodontic needs, budget, lifestyle and personal preference. The best option is to review your options in detail with your dentist or orthodontist.
If you are considering Invisalign for the look and style of the aligners, a good candidate for Invisalign would generally have mild to moderate alignment issues. Patients with needs for more complex cases often will get a better result from the option of traditional braces. Nonetheless, Invisalign technology and treatment options continue to grow.
Dr. Abraham is delighted to perform a consultation and recommend the options of Invisalign or traditional braces, whichever may be the more suitable course of orthodontic treatment for you. Dr. Abraham will walk you through the pros and cons of each option, so you are able to make the best decision for you. We're here to help you achieve your smile goals.
Call To Learn More or Schedule a Consultation
Taking the next step in getting braces is an important investment in your oral health and appearance. By having a full understanding of all your options for either Invisalign or traditional braces, you can work alongside our team of professionals to select the best treatment plan that fits your smile needs.
Call our office today at 310-835-5550 to schedule your initial consultation. At Carson Dental, Dr. Mina Abraham and our team are pleased to offer Invisalign® treatment in Carson, California. We are here to support you and your family in reaching your dream smile!